Quick View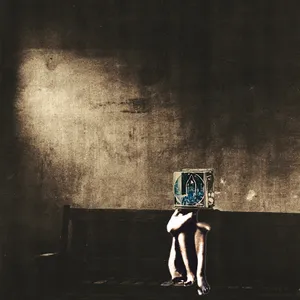 The Phoenix symbolizes a new beginning. The fire burns off the last vestiges of the past as the bird spreads it's wings and takes flight into the future. The Polyphonic Spree harness the flames of rebirth on their 2023 full-length offering, Salvage Enterprise. Led by frontman, founder, producer, multi-instrumentalist, and visionary Tim DeLaughter, the group embark on their next season. They're reverent of their history, yet they're also ready for an even brighter tomorrow."Across all of the music I've done, lyrically there's a sense of desperation and a moment of convincing myself I'm going to make it through regardless of how the music dresses up," notes Tim. "On this one, I struggled with the amount of vulnerability I was experiencing and was willing to share both musically and lyrically, but ultimately decided to let it play out. Now that it's done, I'm happy with the dance between the two. It's a 'rising-from-the- ashes' record."Salvage Enterprise beckons complete immersion. Opener "Gallop- ing Seas (Section 44)" affixes softly strummed acoustic guitar to an orchestral hum as Tim urges, "Hold on through the galloping seas." "We're all galloping through rough waters," he says. "I tried to describe the process as well as I could and encourage people to keep their heads above the storm and the waves. Ride it out. It's going to be okay. It starts off very calm and introspective, and you can envision where it's going."Flute echoes over nimbly plucked guitar during "Shadows On The Hillside (Section 48)" as keys twinkle. A glorious harmony amplifies the nostalgia of "Hop Off The Fence (Section 49)." It concludes with "Morning Sun, I Built The Stairs (Section 52)." Optimism strains through his hopeful intonation, "I learned to fly, the more that I become a new reason, I want to try," uplifted by boisterous horns and cinematic strings. It crashes into an Ennio Morricone-style crescendo bolstered even higher by operatic vocals."There is an arc of leaving the world behind, stripping your old self away, and becoming new again," he offers. "You're shedding off this old world, and you're heading into the future. It's an epic ending. You've made it. You're going to be alright."In the end, The Polyphonic Spree are the soundtrack to that light at the end of the tunnel.
Quick View
The Life After Death 25th Anniversary Super Deluxe Boxed Set consists of 8-LPs and a commemorative booklet featuring rare photos from the album cover shoot, liner notes by Sheldon Pearce, and exclusive reflections from members of the team who worked on the original album release. In addition to the original album, it includes the Hypnotize 12", Mo Money Mo Problems 12", Sky's The Limit 12", and Nasty Boy 12".
Upon its 1997 release, Life After Death debuted at #1 on the Billboard Top 200. It was the first album to feature two back-to-back posthumous #1 singles, "Hypnotize" and "Mo Money Mo Problems." The album received a GRAMMYr nomination in the category of "Best Rap Album." "Hypnotize" earned a GRAMMYr nomination for "Best Rap Solo Performance," and "Mo Money Mo Problems" was nominated for "Best Rap Performance by a Duo or Group." Among dozens of lists and retrospectives, Rolling Stone touted Life After Death among its coveted "The 500 Greatest Albums of All Time." The RIAA has awarded the album a Diamond Certification for more than 5 million copies sold of the double-LP.
NOTORIOUS B.I.G. / LIFE AFTER DEATH (25TH ANNIVERSARY EDITION) EXPLICIT
Quick View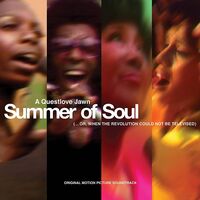 SUMMER OF SOUL (…Or, When The Revolution Could Not Be Televised) Original Motion Picture Soundtrack accompanies Ahmir "Questlove" Thompson's directorial debut documentary SUMMER OF SOUL, which won the Grand Jury Prize and Audience Award at the Sundance Film Festival. Like the documentary, most of the audio recordings that were recorded during the 1969 Harlem Cultural Festival have not been heard for over 50 years, keeping this incredible event in America's history lost – until now. The SUMMER OF SOUL (…Or, When The Revolution Could Not Be Televised) Original Motion Picture Soundtrack is a joyous musical celebration and the rediscovery of a nearly erased historical event that celebrated Black culture, pride and unity. For the album, Questlove carefully selected 17 live renditions of jazz, blues, R&B, Latin, and soul classics performed over the course of The Harlem Cultural Festival in 1969 as chronicled by the film. Performers include The 5th Dimension, B.B. King, Nina Simone, and Sly & TheFamily Stone!
Quick View
Featuring a diverse and spectacular cast of collaborators, "The Atlas Underground Flood" is a treasure trove of creativity, spanning many genres. The album is the surprise sister record released on the heels of "The Atlas Underground Fire". "Fire" and "Flood" are a continuation of the Rage Against The Machine guitarist's groundbreaking 2018 album, "The Atlas Underground." Morello's insane guitar playing is on full display taking the instrument into the future and forging an alternative/rock/EDM masterpiece with heavy metal legends, punk icons and cutting edge firebrands.
Quick View
Super Deluxe contains 8 LPs on 180-gram heavy vinyl showcasing the newly remastered album from the original analog tapes along with 4 complete concerts on the Nevermind Tour from Amsterdam, Melbourne, Tokyo and Del Mar, California. Also included is a first-ever 7-inch for "Endless, Nameless" with B-sides "Even In His Youth" and "Aneurysm," and a 40-page hardcover book with unreleased photos.
Quick View
Eminem is back with "Music To Be Murdered By - Side B" Deluxe Edition. Features 16 new tracks (13 tracks + 3 skits). Executive produced by Eminem and Dr. Dre, the deluxe album features Skylar Grey, DJ Premier, Ty Dolla $ign, Dr. Dre, Sly Pyper, MAJ and White Gold. Opaque Grey 4LP available August 13th.
Quick View
Dashboard Confessional's ninth studio album, All The Truth That I Can Tell, is both a remarkable renewal and fortunate step forward for the band's songwriter, front man, and founder, Chris Carrabba. All The Truth That I Can Tell stands among Carrabba's finest – a strikingly potent musical look at himself through a rediscovered keyhole, both an achievement of vision and a vital burst of artistic clarity; less like reading someone's diary and more like reading their eyes.
All The Truth That I Can Tell is available exclusively at participating indie retailers on "Cold Night" transparent dark blue/green vinyl.
Quick View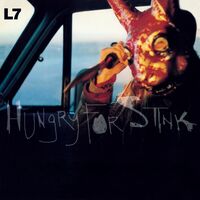 Limited 180gm vinyl LP pressing. Includes insert. L7 is an American punk rock band from Los Angeles, often associated with the grunge movement of the late 1980s and early 1990s. They released their fourth studio album Hungry for Stink in 1994.
Quick View
30 is the first new music from Adele since the release of her third studio album 25 in November 2015.  The album is produced with former collaborators Greg Kurstin, Max Martin and Shellback and Tobias Jesso Jr., as well as new collaborators Inflo and Ludwig Goransson.
Quick View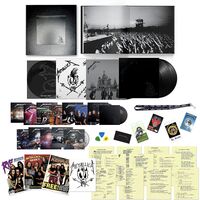 It's finally here – Metallica's eponymous album, better known as The Black Album – is remastered and will be available everywhere on September 10th. The Black album is one of the most commercially successful and critically acclaimed records of all time, with global sales of over 35 million, and contains a series of unrelenting singles, "Enter Sandman," "The Unforgiven, "Nothing Else Matters, "Wherever I May Roam," and "Sad But True." The standard album is remastered by Bob Ludwig at Gateway Mastering and all other content is remastered by Reuben Cohen at Lurssen Mastering. All content was overseen by executive producer Greg Fidelman.

Limited edition deluxe numbered box set (with magnetic flap) of Metallica (Remastered)includes the album remastered on 180-gram double LP and CD, Sad But True picture disc, three live LPs, 14 CDs and six DVDs featuring unreleased content (live shows, rough mixes, demos, etc), MP3 download card of all audio, four tour laminates, lanyard, three lithos, three guitar picks, lyric folder and sheets, and a 120-page hardcover book with never-before-seen photos + stories from those who were there.
Quick View
Brilliant Adventure (1992 - 2001)
The latest in an award-winning and critically acclaimed series of box sets including DAVID BOWIE 1. FIVE YEARS (1969 - 1973), DAVID BOWIE 2. WHO CAN I BE NOW? (1974 - 1976), DAVID BOWIE 3. A NEW CAREER IN A NEW TOWN (1977 - 1982) and DAVID BOWIE 4. LOVING THE ALIEN (1983-1988), DAVID BOWIE 5. BRILLIANT ADVENTURE (1992 - 2001) is an eleven CD box, eighteen-piece vinyl set and standard digital download box set. The collection is named after the Koto led instrumental penultimate track from the `hours...' album
TOY was recorded following David's triumphant Glastonbury 2000 performance. Bowie entered the studio with his band, Mark Plati, Sterling Campbell, Gail Ann Dorsey, Earl Slick, Mike Garson, Holly Palmer and Emm Gryner, to record new interpretations of songs he'd first recorded from 1964-1971. David planned to record the album `old school' with the band playing live, choose the best takes and then release it as soon as humanly possible in a remarkably prescient manner. Unfortunately, in 2001 the concept of th
Now twenty years after its originally planned release, David's co-producer Mark Plati says, "Toy is like a moment in time captured in an amber of joy, fire and energy. It's the sound of people happy to be playing music. David revisited and re-examined his work from decades prior through prisms of experience and fresh perspective - a parallel not lost on me as I now revisit it twenty years later. From time to time, he used to say `Mark, this is our album' - I think because he knew I was so deeply in the tren
Exclusive to DAVID BOWIE 5. BRILLIANT ADVENTURE (1992 - 2001) box set are BBC RADIO THEATRE, LONDON, JUNE 27, 2000 and RE:CALL 5. The former was recorded two days after the famous Glastonbury performance in front of 500 lucky fans at the BBC's art deco theatre in central London. Selections from the show were available as the third CD in a very limited 3CD edition of BOWIE AT THE BEEB in September 2000 but the full concert has never before been available on vinyl. RE:CALL 5 features 39 non-album / alternativ
The physical box set's accompanying book128 in the vinyl set, will feature rarely seen and previously unpublished photos by photographers including Frank W. Ockenfels 3, Nick Knight, John Scarisbrick and Nina Schultz Terner and others, as well as memorabilia, technical notes about the albums from producers/engineers Brian Eno, Nile Rodgers, Reeves Gabrels and Mark Plati as well as a new an interview with THE BUDDHA OF SUBURBIA collaborator Erdal Kizilc,ay.
The vinyl box set has the same content as the CD set and is pressed on audiophile quality 180g vinyl.
LP Box Set:
84 Page hardback book
Black Tie White Noise (remastered) (2LP)
The Buddha Of Suburbia (a very limited release on vinyl previously, remastered) (2LP)
1.Outside (remastered) (2LP)
Earthling (remastered) (3 sided - 2LP)
`hours...' (remastered) (1LP)
BBC Radio Theatre, London, June 27, 2000 (remastered and expanded 20 track version, previously unreleased on vinyl) (3LP)*
Toy (previously unreleased) (3 sided - 2LP)
Re:Call 5 (non-album singles, edits, single versions, b-sides and soundtrack music) (remastered) (4LP)*
BRILLIANT ADVENTURE (1992-2001)
Quick View
Gearing up for another pivotal creative chapter, GRAMMY® Award-winning UK singer, songwriter, multi-instrumentalist and producer James Blake has released "Big Hammer," the debut single from his forthcoming, sixth studio album Playing Robots Into Heaven which will be released on September 8, 2023. Playing Robots Into Heaven follows the critically acclaimed Friends That Break Your Heart and will see James return to the electronic roots of his Hessle, Hemlock and R&S records days. It will also nod to his latest creation, the CMYK event series with Ronda INTL which kicked off in Los Angeles last March and will be venturing to London on July 6th.
James Blake - Playing Robots Into Heaven - Republic Records
GRAMMY® Award-winning UK singer, songwriter, multi-instrumentalist and producer James Blake releases his sixth studio album Playing Robots Into Heaven. Playing Robots Into Heaven follows the critically acclaimed Friends That Break Your Heart and sees James return to the electronic roots of his Hessle, Hemlock and R&S records days.

  

Chappell Roan - The Rise And Fall Of A Midwest Princess - Island
Bold pop hooks, sex positivity, honest songwriting and a heavy dose of glitter make up the world of Chappell Roan, the next multi-faceted force in pop music. A technicolor celebration of self-discovery and transformation, The Rise And Fall Of A Midwest Princess tracks Chappell's cinematic journey of falling in queer love for the first time, while embracing all the messy and imperfect moments in-between. Penned by Amstutz alongside Dan Nigro (Olivia Rodrigo).



Bleach Lab - Lost In A Rush Of Emptiness - Nettwerk Records
Bleach Lab proudly call themselves perfectionists. The South London formed in 2017 as a duo of bassist Josh Longman and guitarist Frank Wates, they then recruited vocalist Jenna Kyle before reaching their final form at the start of 2021 with the recruitment of drummer Kieran Weston. After releasing three EPs, they are now gearing up for their debut album Lost In A Rush Of Emptiness, where the band felt free to experiment, always keeping true to their alternative nature. The songs on it are packed with widescreen, dreamy soundscapes that pushed their aesthetics forwards and continued the experimentation that exists at the heart of the project.

  

Carrie Underwood - Denim & Rhinestones [Deluxe Edition] - Capitol Nashville
This new Deluxe Edition features the original 12 tracks including the hit singles "Ghost Story" and "Hate My Heart," plus 6 additional songs including "Take Me Out" and her latest single "Out Of That Truck." Carrie is a true multiformat, multimedia superstar, spanning achievements in music, TV, film, and as a New York Times bestselling author and successful entrepreneur. She has sold more than 85 million records worldwide and recorded 28 #1 singles (14 of which she co-wrote).

  

Jason Isbell - Southeastern 10 Year Anniversary Edition - Southeastern Records



Green Day - Dookie: 30th Anniversary - Reprise



Jonas Brothers - The Family Business - Nettwerk Records



Boy Named Banjo - Dusk - Mercury Nashville

  

Steven Wilson - The Harmony Codex - Spinefarm



Read More
---
---